Friday and Saturday this week:
If you are one of our Bag Ladies (have one of our purple bags) come in for 20% off your purchase of regular price merchandise.

All fat quarters are 10 for $20.

Lots of bolts have been added to the Bargain Shelf - $6 a yard
Come visit us for these Super deals and then stay home Sunday to watch the game and snack. Here is a snack I recently had and liked!
Hawaiian Bun Ham Sandwiches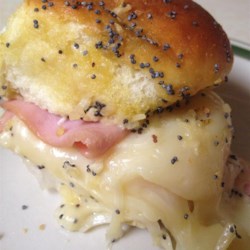 Ingredients
3/4 cup melted butter
1 1/2 tablespoons Dijon mustard
1 1/2 teaspoons Worcestershire sauce
1 1/2 tablespoons poppy seeds
1 tablespoon dried minced onion
24 mini Hawaiian Bun sandwich rolls
1 pound thinly sliced cooked deli ham
1 pound thinly sliced Swiss cheese
Directions
Preheat oven to 350 degrees F (175 degrees C). Grease a 9x13-inch baking dish.
In a bowl, mix together butter, Dijon mustard, Worcestershire sauce, poppy seeds, and dried onion. Separate the tops from bottoms of the rolls, and place the bottom pieces into the prepared baking dish. Layer about half the ham onto the rolls. Arrange the Swiss cheese over the ham, and top with remaining ham slices in a layer. Place the tops of the rolls onto the sandwiches. Pour the mustard mixture evenly over the rolls.
Bake in the preheated oven until the rolls are lightly browned and the cheese has melted, about 20 minutes. Slice into individual rolls through the ham and cheese layers to serve.


I had this made with turkey and without the poppy seeds or onions and it was still very good.